Crystal booth throwing screen
Youtube watch link of the video‍
touch screen throw
Youtube watch link of the video‍

Flying screen software is composed of one touch screen or multiple touch screens and a large-size display screen. The user can select and display photos through the touch screen, and "flump" the photos to the large-screen display wall to interact with other photos and advertising elements on the display wall. The display wall can also scroll to display multimedia content such as photos and videos.





Interactive wall is based on radar touch technology.
1. A large display (supporting LED screen, projector, splicing screen) can be combined with multiple touch screens to form a local area network to realize the touch screen data flying to the large screen, without limiting the number of touch screens. If there is only one touch screen, the extended mode can also be used, just one touch all-in-one machine
2. Support catalog classification, you can add pictures and videos in each category
3. When no one is operating, the standby video will play automatically, or you can manually select the screen saver mode.
4. Multiple categories automatically rotate slowly. Every icon, background image, background video can all be replaced,
5. You can configure the display end picture to zoom full screen or keep the proportion, and adapt to any resolution

Two modes
1. In browse mode, you can slide pictures and videos to the big screen by sliding your finger or clicking the upload button
2. Rotation mode, can rotate and zoom pictures and video sizes arbitrarily, support two-person operation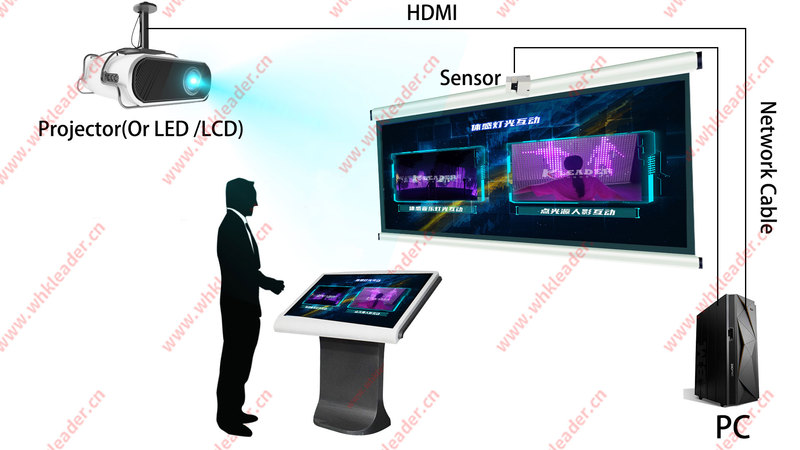 1.1 year warranty for hardware&components
2.Provide the specification of machine, to teach customer how to operate the machine;
Send photos and video to customers for reference;
3.Door-to-door service need extra charge!
4.Provide customized services


keywords:Exhibit interaction by touch screen intelligent podium Interactive command center solution projection command center remote interaction,Intelligent podium smart chiefs podium command center remote interaction projection touch wall large screen display 3D augment reality,multimedia presentations,Exhibit interaction by touch screen, Smart Chiefs Podium, Interactive Command Center Solution, Intelligent podium, Command center remote interaction, interactive projection wall