Kleader outdoor somatosensory interaction is fully upgraded. Introducing dozens of games in the exercise fitness series + entertainment puzzle series, suitable for all ages! Using the AI interactive large screen, using somatosensory recognition and gesture recognition technology, the human limbs can interact with the large screen by performing corresponding movements, without wearing any sensing equipment, and easily and conveniently control the content game that you want to interact with.
Youtube watch link of the video‍
Youtube watch link of the video‍

Launched for the elderly, there are four types of exercise type games, namely Real Tai Chi Interactive, Panda Tai Chi Interactive, MR Foshan Lion Dance, and MR Animal Aerobics, which are suitable for the elderly. Stimulate the passion of the elderly to exercise, and let more elderly participate in the ranks of intelligent exercise.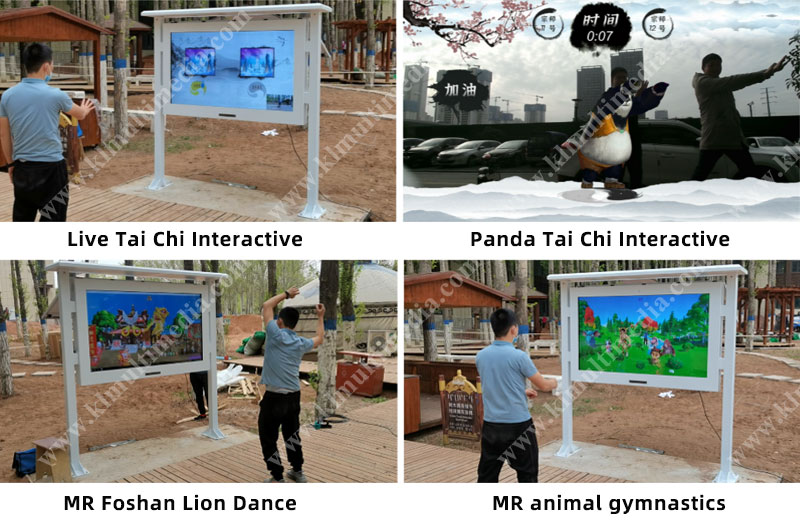 Launched for young people, MR Somatosensory Warcraft, MR Fighting New Year Beast, MR God of Fortune, Somatosensory Parkour 4 types of exercise and fitness games. Arouse young people's memories, stimulate enthusiasm, exercise and strengthen their bodies.

Launched for children, there are 4 entertainment and puzzle games of MR cutting fruit, somatosensory header, somatosensory fighting virus, somatosensory dance. The picture effect is very joyful, especially praised by children. It is a great experience for the park to relax and enjoy the game fun.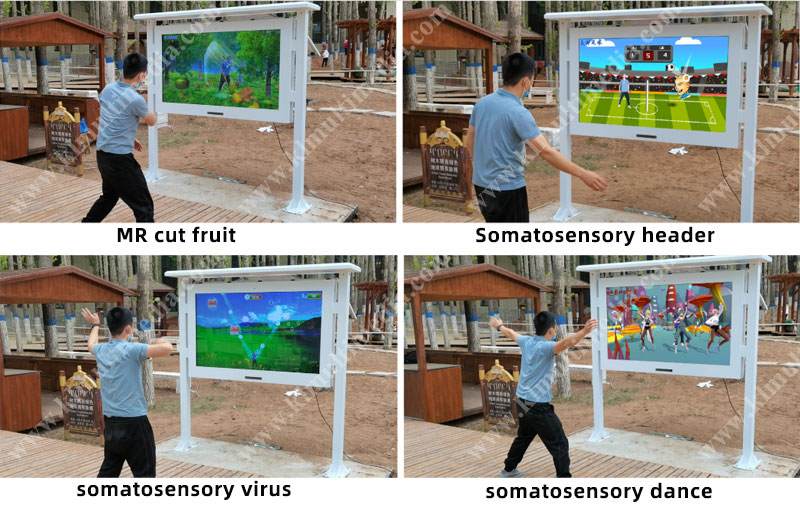 Kleader waterproof and somatosensory interactive screen, built-in kinect2.0, the finished product is available in 65-inch and 75-inch specifications.
In terms of protection level: IP55, brightness of 3000 cd/m2, more than 1000 cd of the counterpart screen, and the screen can be seen clearly in the sun.

Sensitivity aspect: Through the Kleader optimization program, it can achieve perfect operation during the day or night without induction failure and other situations.
In terms of game performance: the independent graphics card 1050TI is adopted, which perfectly realizes the operation of 3D games without stuttering.
In terms of stability: built-in temperature control device, timing start device, lightning protection device to achieve engineering operation.
In terms of delivery time and installation difficulty: the domestic leader, delivery within 3 to 20 days. Screw the cement base directly to fix the installation.
It adopts waterproof and moisture-proof double column mode, and contains induction equipment. At present, the Kinect scheme is used for the implementation of multi-site projects. Some games use outdoor keying mode without background, and some use real-life background mode, which makes the keying mode more immersive. The sensor can operate normally under normal sunlight and dark night.






1.1 year warranty for hardware&components

2.Provide the specification of machine, to teach customer how to operate the machine;
Send photos and video to customers for reference;
3.Door-to-door service need extra charge!


keywords:Outdoor Kinect interaction games human body Induction with games LED display interactive led wall holographic immersive augment,Outdoor Kinect LED display games interactive human body Induction with games holographic immersive augment dynamic digital art