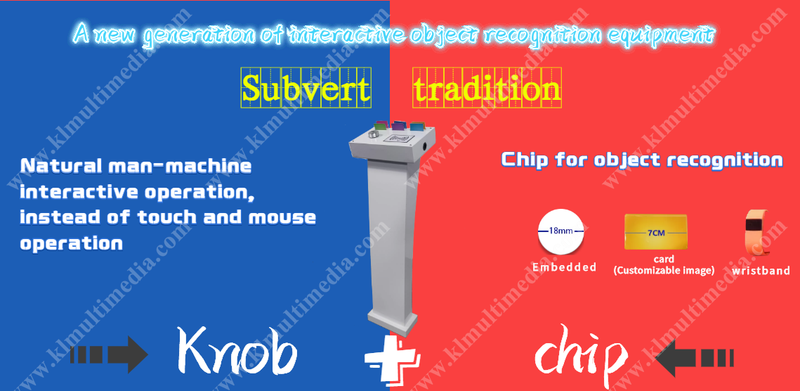 Youtube watch link of the video‍‍
Youtube watch link of the video
Knob chip interaction is a new type of interaction developed by Kleader. The whole set of equipment is composed of a rotary button, chip, chip sensor and system. The knob and chip are used for auxiliary display. The chip is used to identify objects, and the knob is used to interact. After chip recognition, you can use the button to rotate and browse or press to select and other operations. . The chip can use a card-shaped style and can also support the placement of the content chip into the product object to be displayed. The identification content of the chip can be customized according to the specific needs of users or it also supports custom setting of picture or video type files. Using identification to display product objects can better allow the experiencer to understand the features and functions of the product more quickly and more actively.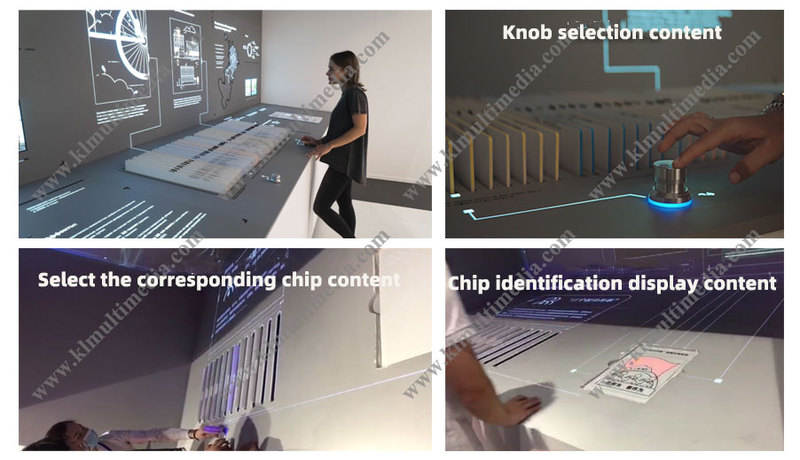 The finished product display software can be embedded in the display wall, using a combination of virtual and real, acrylic characters plus display software.


1. There is no limit to the number of identification chips, which can support any number of chip product identification
2. Provide unity DEMO SDK demo package to facilitate secondary development, no secret dog, serial communication, C++, JAVA, etc. can also be supported

3. A set of default display software is provided, which can support self-setting 2D picture or video type files for identification and display, and can also provide 3D model display for us to add to the system for you

4. The card also supports classification to play pictures and videos, swipe the card to enter directly, and automatically 6 groups by default (also supports customizing more classifications)


1. Identification chip-the chip is divided into two types
①Regular card style-card thickness 4MM, size 7*4CM, can support customized printing graphic style, can be inserted into the modeling module provided by Kleader and used alone.

②Small embedded chip-the diameter of the chip is 18mm, the thickness is 1mm, this type of chip can be embedded in any fixed object or the product can be directly pasted on the bottom of the product

2. The conventional type of rotary knob chip recognition device-supports real-time feedback rotation of the rotary knob, single click, and long press on the message. 18 card slots, accuracy of 20°, unlimited number of identification chips, interface is USB cable, serial port, independent power adapter

There are screws and outlets at the bottom, which can be embedded into the desktop or other shapes for installation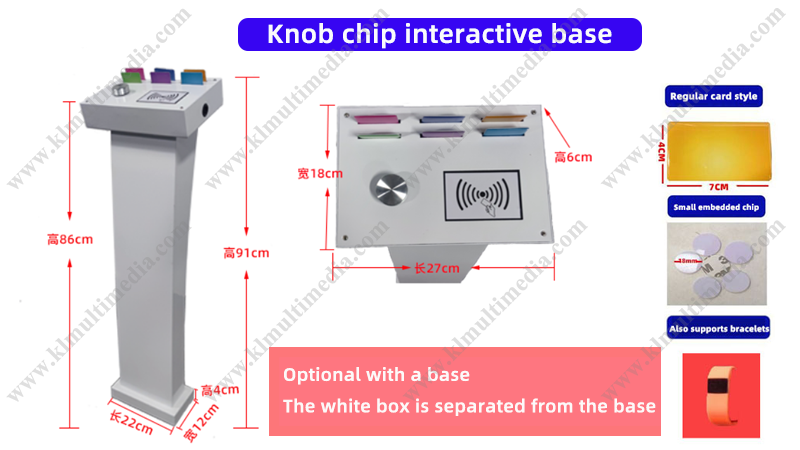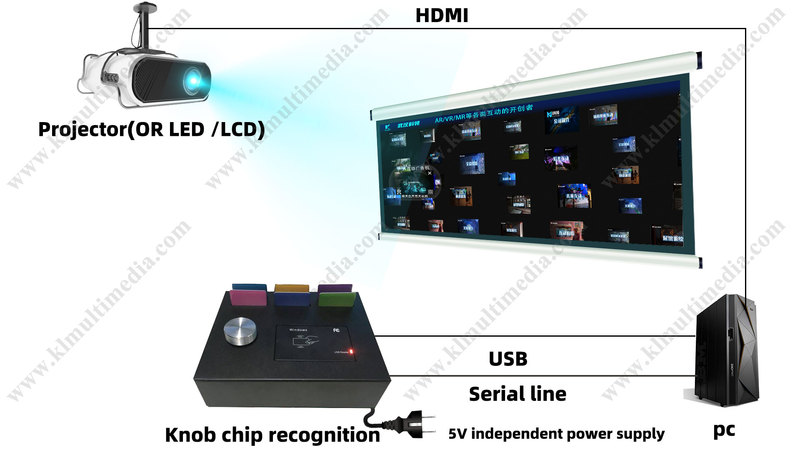 Interactive installation of historical display
This exhibit is used in museums, art galleries, and archives to display historical and important deeds.
Youtube watch link of the video
Youtube watch link of the video‍


1.1 year warranty for hardware&components

2.Provide the specification of machine, to teach customer how to operate the machine;
Send photos and video to customers for reference;
3.Door-to-door service need extra charge!
4.Provide customized services


Other related types of products:Interactive table
keywords:interactive projection, Spin button interactive,Roulette interaction,table interactive projection,touch table system,Turn button device,3D virtual interactive projection,interactive projection,Other related types of products: Spin button interactive,Roulette interaction,table interactive projection,touch table system,Turn button device,3D virtual interactive projection,