Product introduction:
Youtube watch link of the video
Kleader camera keying interaction, high quality keying, clean characters, take pictures, save, all gesture operation recognition, can automatically change background pictures, smooth operation, stable performance, can run continuously for a whole day.
The alternative somatosensory keying is not clear, the infrared keying has burrs, and it needs to be very close to have the problem of sensing.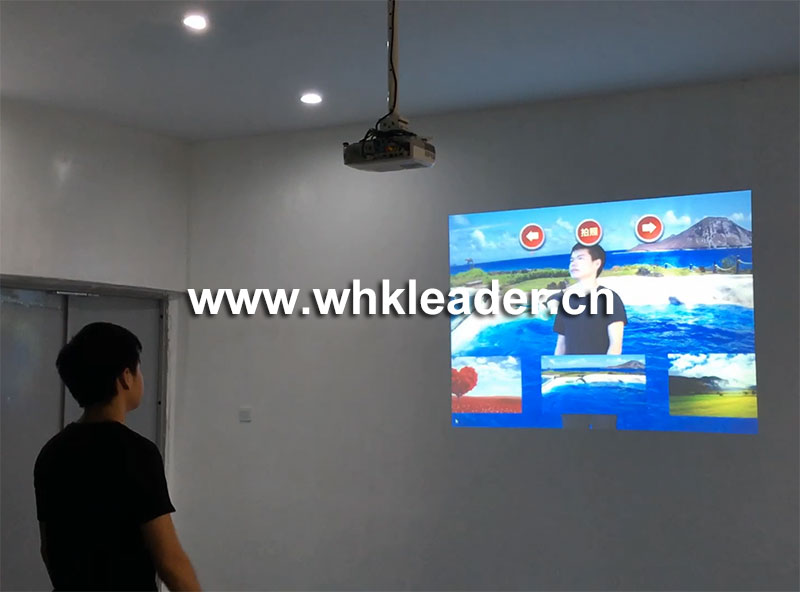 Main functions of the software:
1. Customize the foreground picture and background picture, and also support video background, gesture switching scenes, and taking pictures. It also supports mouse triggering.
2. After taking a picture, raise your hand and automatically save it locally. The camera supports Canon cameras and Logitech cameras.
3. The keying mode of pure color background (green screen) realizes real-time keying synthesis effect, which is suitable for applications that require high quality of keying edge, and also supports other color background curtains such as (blue).
4. The software automatically keyed the background color, keying detail parameters, etc., to ensure that the software actually runs to achieve a good keying synthesis effect.
5 After the photo is taken, if you go to the Internet, you can support the two-dimensional code to download the photo.
6 After taking a photo, you can write your signature to achieve a souvenir effect.
Required hardware:
Green background curtain
Soft light (optional), the keying performance of this system is superior, as long as the light is basically uniform, the keying can be achieved
Computer host + projector or display
Advantage:
1. Customize foreground and background pictures, and also support video background
2. Camera supports Canon camera and Logitech camera
3. Can support QR code to download photos
4. You can write your signature after taking the photo

keywords:ar somatosensory selfie, somatosensory interactive group photo, interactive camera, kinect keying, somatosensory camera interaction, interactive camera attachment system, kinect keying stroke, kinect gesture photography, kinect no green screen keying, kinect2.0 keying, somatosensory green Screen keying, ar virtual camera, kinect2 generation no background keying software system, interactive camera equipment, virtual interactive camera, somatosensory no background keying camera, XBOX keying camera, somatosensory interactive projector, ar somatosensory large screen interaction, touch projection Screen, virtual camera taking photos, green screen photo interaction, virtual travel photo system